Attention to detail test: predict job success
The attention to detail test measures the ability to use cognitive resources to pay attention to visual details and information. In many professions, this ability is essential. To arrive at appropriate conclusions and make timely decisions, one must be able to focus on the crucial parts of the material presented while dismissing the rest.
Why use an atttention to detail test?
As a pre-employment screening tool, an attention to detail test can be administered to applicants applying to a wide range of office-based positions that need precise execution. A suitable applicant will show that they can uncover discrepancies in data, identify errors in their own and other people's work, and follow directions to the letter. A sequence of multiple-choice and fill-in-the-blank questions are used to assess candidates' attention to detail in real-world circumstances.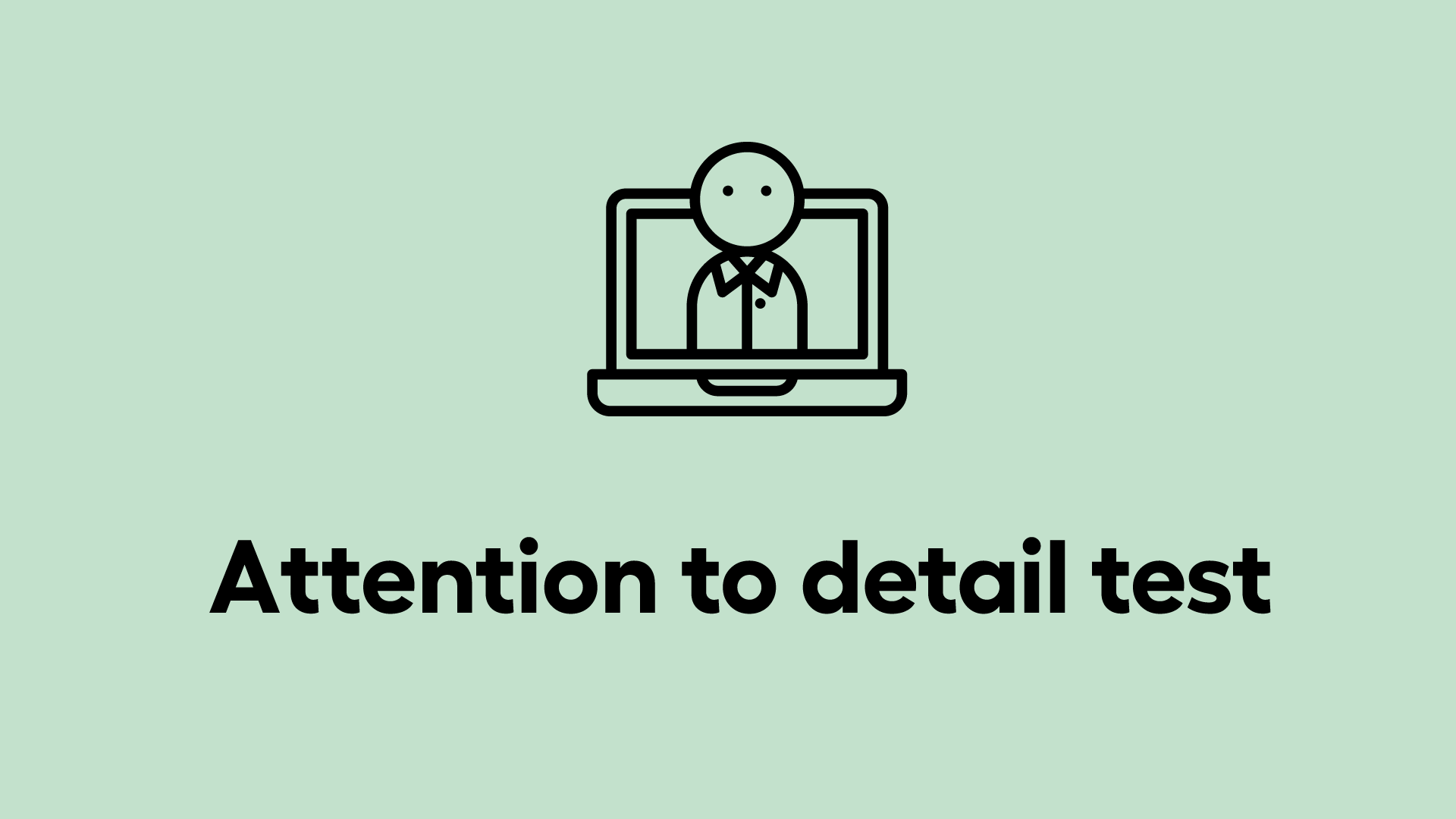 What is the significance of the attention to detail skills assessment?
A significant amount of information may be filtered by our attention, which allows us to notice and record only what is relevant to us in a particular situation. Attention to detail helps us get quality-focused results. Attention also aids in developing other areas, such as memory, communication, and perception.
TestGroup's Attention to Details Test is a good fit for administrative and clerical entry-level positions. It can assist employers in identifying which individuals that prioritize quality, detail, and urgency in their work by prompting them to answer comparison-based questions about texts, numbers, images, and visuals in a matter of seconds.
What does the test for attention to detail measure?
The purpose of this test is to assess a candidate's ability to maintain both speed and accuracy while attempting the task at hand. They must skim through information and graphics in a short period, which can be difficult for someone unfamiliar with the material. Candidates are also tested to see how well they can pay attention and decipher between similar pieces of information.
However, this test is most suited for administrative and data-processing positions and can be used for screening and recruiting freshers in practically any industry.
Types of attention to detail tests
There are two types of attention to detail tests: visual and textual.
1. Textual attention to detail test
Candidates' capacity to digest information while paying attention to textual detail is assessed. You can use this exam to determine if a candidate has the analytical skills necessary to handle complex operations with care and precision. Customer service agent, office assistant, administrator, and bookkeeper are all examples of roles that require attention to detail.
Candidates applying for entry-level positions can also benefit from this test.
Attention to detail is essential for every professional; grammatical errors can display unprofessionalism, and inaccuracies in statistics and data that can cause significant issues.
With this test, you may measure your candidates' vigilance attention to textual detail by having them match information, compare claims, and verify the accuracy and completeness of the information. They are asked to spot flaws, omissions, and irregularities in the information supplied in this test. Those who perform well can assimilate textual material and get the correct answer without overlooking minor subtleties that might have a significant influence. Using this exam, you may find meticulous applicants in their work and analyze all factors before deciding. This exam is a fantastic way to see find meticulous candidates and see how well they think analytically in general.
2. Visual attention to detail test
This test measures a candidate's ability to focus on details in a visual environment. Any position requiring a high visual detail sensitivity can benefit from this exam. This includes graphic designers, web developers, infographic creators, in-house designers, lab techs, and industrial workers.
Your company's branding and marketing materials, as well as the apps and software you use daily, are all filled with visual information. Thus, it is important that it is error-free.
This test prompts candidates to spot variations and match identical images and identify patterns and minute features in an image. Candidates who do well on this exam can effectively analyze visual data.
Attention to detail test: Example report
The attention to detail test, whether for textual or visual information, is a great way to assess whether candidates that apply for jobs that require successful execution of fine details possess that important trait. The attention to detail report provides an overview of the candidate's score, accuracy, and speed on the test.
Frequently asked questions about using an attention to detail test
What types of attention to details tests does TestGroup have?

We have a visual and a textual attention to detail test. The visual test measures the ability to see variations and match identical images, while the textual test asks the candidates to check for flaws, omissions, and irregularities in the information supplied.
Why is attention to detail important?

The ability to see details in information is crucial for employees to successfully complete a task without making mistakes. This is important for job performance in a wide range of professions such as finance and ICT.
What is the cost of an attention to detail assessment?

The cost depends on how you purchase your tests at TestGroup. If you purchase the attention to detail test per candidate (single use), prices start at 75 euro per test. When you have a subscription for the Bridge Assessment Platform, price start at 5 euro per test.
Can I use this attention to detail test to hire candidates?

Yes! You can use this test to select and hire the best candidates for positions such as graphic design, web design, visual design, marketing design, infographic design, in-house designs, lab technicians, manufacturing, customer care, office management, administrative roles, ICT, software programming, finance, and any other role in which details are important.
In what languages is the attention to details test available?

At the moment, the test is available in Dutch and English.
How do I use this test for job applicants?

Just order the attention to detail test at TestGroup. We do the rest. You can choose for single purchase of for an affordable subscription. You can start right away.
Order your test & online assessments here
You can order a test or online assessment for your candidate or employee here.
We will create & email it to you within just 30 minutes.
After completion, the assessment report will be directly available.
Companies and organizations can pay with an invoice afterwards.
All prices of the tests & online assessments can be found on the price page.
In 4 easy steps: get your candidate tested today
Order a test or online assessment from our order page.
Your candidate can start with the test or online assessment within just 30 minutes.
After completion, the report is available instantly.
High volume use? Get you own account on our online assessment platform.
This is what our satisfied customers say about us
"Thanks to the Bridge Ability Suite we can admit more people to our corporate training."
Kim Heerkens, Capacity Building Consultant
DTV Consultants