Cognitive ability test for adults
With a cognitive ability test, you gain insight into the abstract, numerical, and verbal intelligence of individuals aged 18 and older. This test can be used by professionals for study choice, professional orientation, recruitment, or selection of suitable employees. A cognitive ability test for adults can be useful when there are uncertainties about abilities that someone possesses. This test is suitable for use in work situations, for example, to determine whether someone can advance to a higher level position.
Why test adults on cognitive ability?
There are many factors that determine whether someone will be successful in a new position. An applicant's intelligence is one such factor. Scientific research clearly shows that the candidate's abilities or intelligence is a good predictor of success. The more intelligent the employee, the better he or she can handle unexpected events. An intelligent employee can also adapt and learn more quickly—qualities that are more important than ever!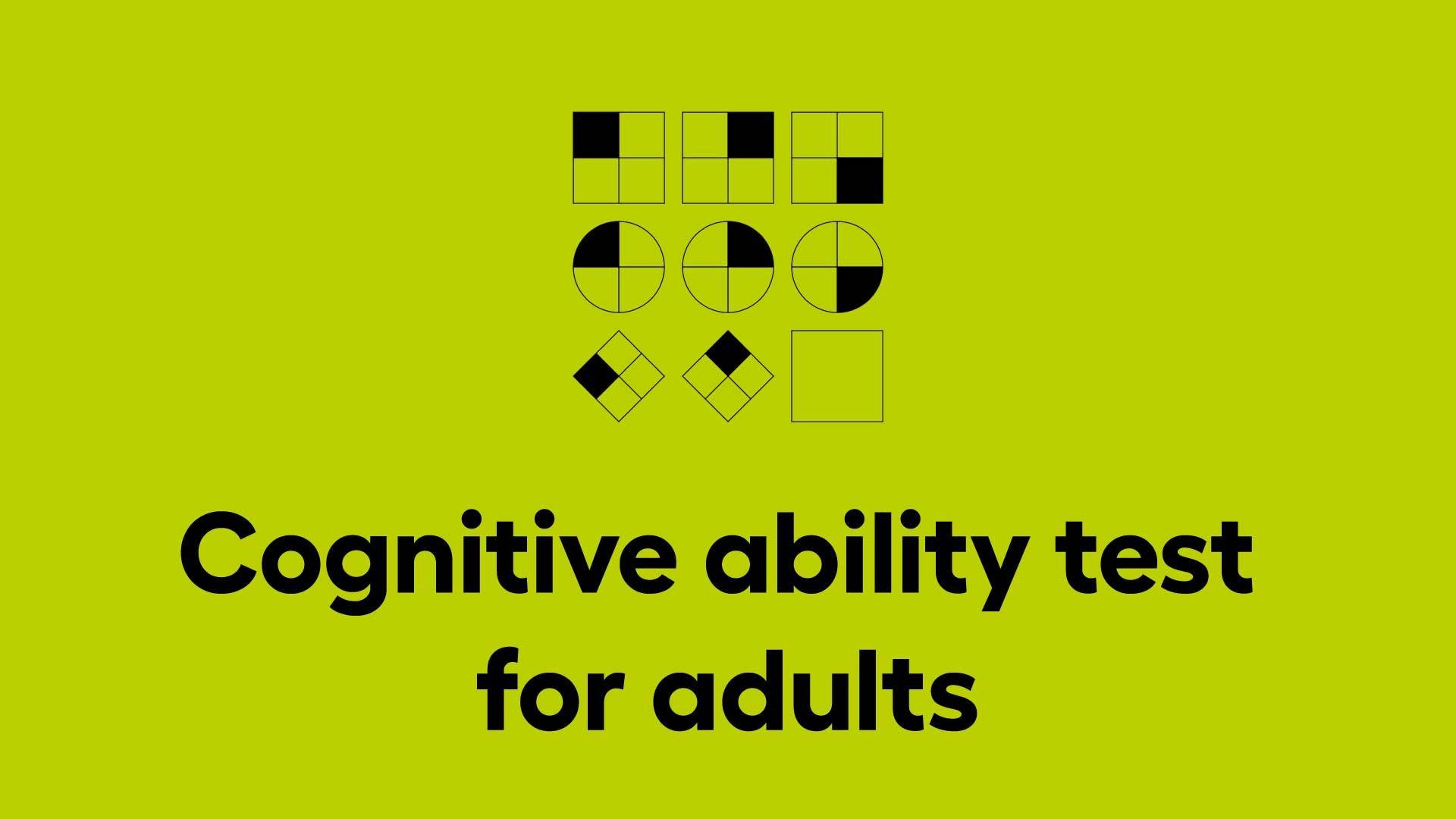 Recruitment and training
Taking cognitive tests is therefore becoming increasingly normal within recruitment and selection processes, not only to determine whether an applicant is suitable for a job, but also to determine whether an employee is suitable for a promotion or training program. With a reliable and valid adult cognitive test, you can make better decisions about a candidate. The question is only which cognitive test is sufficiently reliable to base your decisions on.
Cognitive ability test for adults: The Bridge Ability Suite
The Bridge Ability Suite is a solid, reliable cognitive ability test to measure the intelligence of your candidate. The Bridge Ability Suite cognitive test is a scientifically based method for measuring adult intelligence. In scientific terms, this cognitive test is reliable and valid. But what does that mean?
When we say that a test is reliable, it means that the outcome of the test is correct. No matter how many times the candidate takes the test, the result is always (more or less) the same. When we call a test valid, it means that the test actually measures what it was intended to. The (sometimes justified) criticism that people can have about other cognitive tests usually concerns these two components.
For this reason, the developers of this cognitive ability test for adults have collaborated with renowned scientists to develop a test with a strong scientific foundation.
As a result, the predictive value of this cognitive test is particularly high. With the report of this cognitive test in hand, you can very carefully determine whether someone has the capabilities needed to be successful in an educational path or job.
When should you use the cognitive ability test for adults?
Our cognitive ability test for adults can be used in any situation where it is useful to know the intelligence of the candidate. This is useful not only with external applicants, but also when assessing internal candidates. For example, it can help to determine who is suitable for a promotion, or who can participate in an MD trajectory. Because The Bridge Ability Suite is administered online and has been thoroughly checked, the cognitive ability test for adults helps you to quickly and without fuss obtain a completely objective picture of someone's capabilities.
For all levels of education
The cognitive test is available at various levels of education, from MBO, HBO to WO-level. The cognitive test can also be used for adolescents and adults in the 15-65 age group. This cognitive ability test for adults measures numerical intelligence (The Bridge Numerical), verbal aptitude, linguistic understanding (The Bridge Verbal), and the ability to think logically (The Bridge Abstract).
Advantages
Unlike a more traditional adult cognitive test, The Bridge Ability Suite does not require the candidate to come to a testing center.
The test can simply be taken online. This saves the candidate travel time, which can be an obstacle. After all, not every candidate can take a day off to come and take a test, especially the top candidates, who often apply while working at their current job.
More importantly, the candidate can take the cognitive test in his or her familiar surroundings and at a time that suits them. You can therefore count on the test result to give a true picture of the candidate's intelligence.
The time investment by the candidate is limited; our cognitive ability test for adults can be completed in just 60 minutes. Afterwards, you will know exactly how quickly someone will feel at home in the new role.
Administering cognitive tests for adults is now easier than ever
Taking a cognitive ability test for adults is possible from as little as €80 per test. Immediately after completing the order, we will start working for you so that your test is ready to be administered within 30 minutes. The candidate is then automatically invited to take the test.
Once the candidate completes the test, a report will be generated immediately. If you prefer, a final evaluation session can be scheduled with one of our consultants.
Do you want to know more about your candidate's capabilities? Combine the cognitive ability test for adults with one of our other tests and online recruitment tools.
Sample reports: cognitive ability test for adults
There are three reports available for the adult cognitive test: the abstract report, the numerical report and the verbal report.
Order your test & online assessments here
You can order a test or online assessment for your candidate or employee here.
We will create & email it to you within just 30 minutes.
After completion, the assessment report will be directly available.
Companies and organizations can pay with an invoice afterwards.
All prices of the tests & online assessments can be found on the price page.
In 4 easy steps: get your candidate tested today
Order a test or online assessment from our order page.
Your candidate can start with the test or online assessment within just 30 minutes.
After completion, the report is available instantly.
High volume use? Get you own account on our online assessment platform.
This is what our satisfied customers say about us
"Thanks to the Bridge Ability Suite we can admit more people to our corporate training."
Kim Heerkens, Capacity Building Consultant
DTV Consultants